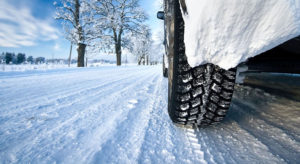 Bad Driving Habits to Avoid in Winter
The weather outside is frightful, meaning it's that time of year when the mornings are cold and dark and the roads are slick. Winter road conditions call for safer and better driving responses from motorists. You may be making things more dangerous for yourself if you drive poorly during the cooler months.
Speeding in Snowy Conditions
Yes, even the most experienced drivers can falter in their winter driving skills. Overconfidence in one's abilities can be detrimental and end up causing a serious crash. Black ice may be lurking beneath the fresh coat of snow, and if you're speeding, it's entirely possible to spin out of control. Keep your speed steady and drive below the speed limit.
Reacting Too Slowly
In ice, snow, and rain, you always want to know what's happening ahead of you, as stopping distances increase on these conditions. Keep your eyes scanning in front of you so can slow down and brake in plenty of time.  Also, leave at least 8-10 seconds between you and the vehicle in front of you so that you have time to react if the driver ahead loses control.
Not Clearing Your Vehicle Before Setting Off
If there's ice or snow on your vehicle, ensure you scrape it off all the windows and mirrors before driving. You may not think you need the side or back windows, but they are essential for checking your blind spot and ensuring you are safe to maneuver. Allow a few extra minutes in the morning to clear your vehicle. Making sure your vehicle is protected by 
auto insurance
 is just as important as good driving skills. 
Visit
 Bell Black Insurance, serving Idaho Falls, Island Park, Driggs, Victor, Swan Valley, Ashton, and the neighboring communities in Idaho, as well as Jackson and Star Valley in Wyoming.