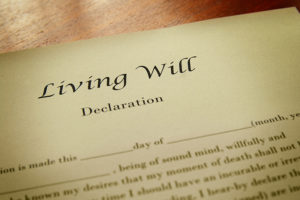 What to Know About End-of-Life Medical Care 
A living will, despite its name, is not at all like the wills that people use to leave property at their death. A living will is a document that lets people state their wishes for end-of-life medical care in case they are unable to communicate their decisions. This document is important to consider when estate planning. It can give invaluable guidance to family members and healthcare professionals if a person cannot express his or her wishes.  Without it, family members and doctors are left to guess what a seriously ill person would prefer in terms of treatment. There are three very important reasons why an individual should have a living will composed.
The hospital needs instructions on what to do.
The living will informs the medical staff of the type of care to be given in the event of a medical emergency or death. Without it, the hospital staff has no choice but to leave the life support systems on indefinitely. Even if you are covered by a health insurance policy, the costs would continue to grow. The family is then left to deal with this.
A final decision needs to be made.
There are regrettably instances where a patient is unable to make or communicate decisions, and the life support systems cannot be turned off. Medical power of attorney is a group legal services benefit that is ordinarily drafted along with a living will. It assigns a given individual the authority to make the final decision in the event where it is unlikely that the patient will ever regain consciousness.
The family needs closure.
The family can be left in a state of emotional limbo following a severe medical emergency with the possibility of death. This is a circumstance no family wants to have to endure. The living will can bring about the necessary closure so that the family can grieve and move on. The long-term benefit is peace of mind in knowing that you will be taken care of according to your wishes. Ensure that you leave your family with the right support by securing reliable
life insurance
.
Visit
 Bell Black Insurance to get started today. We serve those in Idaho Falls, Island Park, Driggs, Victor, Swan Valley, Ashton, and the neighboring communities in Idaho, as well as Jackson and Star Valley in Wyoming.